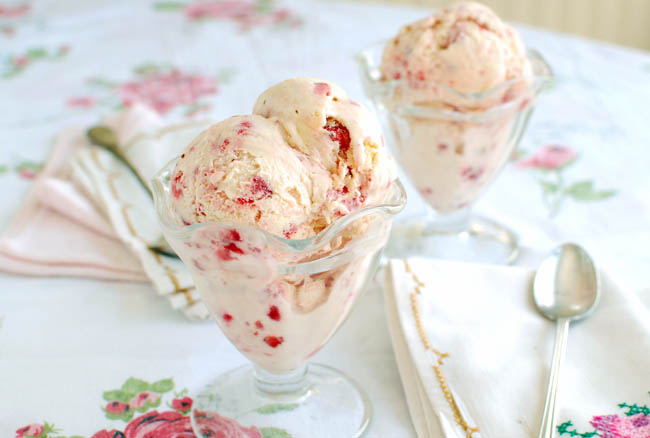 One of the best things about the summer is all the fresh fruit available. Strawberries usually show early in the season so I always associate them with the start of summer, backyard BBQ, and the 4th of July. Our local farmer's market had some organic strawberries which smelled so sweet it was just impossible not to buy some.
Last weekend we celebrated a significant birthday (one ending in a zero) of a very close friend. My mother made a knockout BBQ pulled pork and I made grilled vegetables and a killer pesto macaroni salad (recipe to come) along with my favorite lemon cake* and this fresh strawberry ice cream. It was a prefect late spring/early summer meal.
*For this lemon cake, I left out the lavender, multiplied the recipe x 1.5, and baked it in a bundt pan. It made a perfect birthday cake and went really well with the strawberry ice cream.
A Cautionary Tale:
The morning of the BBQ, I woke up to a horrible discovery. I took the ice cream base which I'd made the night before and put it into the frozen bowl. I put the mixer in the center, set the bowl on the machine and discovered that for some reason the cover would not fit on my Cuisinart Ice Cream Maker
. Nothing I did would make it fit. Then I realized that the bottom of the bowl was completely bowed outward. As best as I can figure, the bowl must have gotten hot (washed by someone who did not know better perhaps) and the heat destroyed the refrigerant inside the bowl. When it froze, it expanded and warped the bowl making it unusable forever. Fortunately I was able to borrow a machine (thanks mom!) and then had to order a replacement bowl. Still, it was a tough lesson to learn.
In other news, as you may have figured out by now, I love to travel almost as much as I love all things food. Actually, depending on the day, it's a toss up of which I love more. So, with a week's vacation time looming, you can imagine how dismayed I was to have nothing planned. Fortunately, a few days ago, I lucked on to a good airfare to Panama, and after some brief discussion with my husband (and quick but intensive research on my part) we decided to go. So, if anyone has any Panamanian food advice, tips on where to go to find the best ceviche, great markets, or anything else, bring it on!
Strawberry Ice Cream Recipe
Printable Recipe in PDF
2 cups cream
1 cup whole milk*
5 egg yolks
3/4 cup sugar
1 pint (1 basket, about 13 oz weight) strawberries
1 Tbsp lemon juice
1 Tbsp sugar
1 tsp. vanilla extract
*I didn't have any whole milk, but I do buy 1/2 & 1/2 for my coffee so I used 1/4 cup 1/2 & 1/2 and 3/4 cup 1% milk.
Rinse, hull and slice the strawberries. Chop half of them into very small pieces and keep half of them sliced. Add the sugar, lemon juice and vanilla extract and mix. Do this in advance so they have time to macerate, at least a few hours or overnight. The sugar, lemon juice and vanilla will cause the strawberries to soften and release some of their juice. Before mixing into the ice cream base, you'll want to smash them a little more with a fork or puree part of them. 

To make the ice cream base, separate the eggs and put the yolks in a medium sized bowl. Add 1/4 cup of the sugar and whisk it into the egg yolks.
Get a big bowl and fill it with ice and a little water. Get a bowl just smaller than that and set it on top of the ice. You will be pouring the custard into that bowl to cool it down quickly. Set a small fine mesh strainer over the bowl.
In a medium sized heavy bottomed sauce pan, combine the cream, milk and remaining 1/2 cup of sugar. Heat until just below a simmer.
To temper the egg yolks before adding them to the cream mix, take about 1 cup of the hot cream/milk mix and whisk it into the egg yolks. Then add the egg yolks, whisking slowly, back into the cream/milk mix. Cook, being careful not to boil, until the mixture begins to thicken into a custard and will coat the back of a spoon. You do not want to over cook this or the eggs will start to scramble.
Pour the custard though the strainer set over the bowl on ice. The strainer will catch any bits of egg which might have over-cooked. Stir the custard until cool and then cover and refrigerate until completely cold, preferably overnight.
Freeze the ice cream according to the manufacturer's instructions and add the strawberries in at the end during the last 5 minutes of churning.