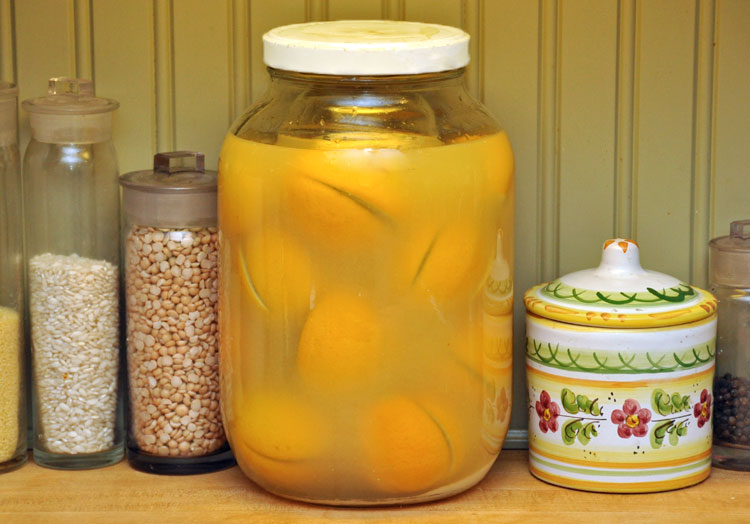 A gallon of preserved lemons? What was I thinking? The more the merrier? That I wanted to have a big Moroccan themed party and I'd need a lot of preserved lemon? I honestly don't know. I think it was something along the lines of , "well, if a little is good, then a lot must be great!"
I received Paula Wolfert's gorgeous book, The Food of Morocco
as a Christmas gift. The book is not only beautiful, but she takes great pains to explain all about the cuisine and I'm really excited to cook from it.
First things first, I needed to have the basic ingredients and one of the main staples is preserved lemon. They take 30 days to cure so I guess I figured I might as well make enough to share with my mother who herself was given a Moroccan tagine
 for Christmas.
The recipe calls for 5 lemons. Since I could fit 15 lemons into my gallon jar I just tripled the recipe. All good, right? Not so fast.
I forget to take into account how much extra space there would be in the jar. The original recipe calls for 5 lemons, 1/3  cup salt and 1/2 cup of lemon juice to cover the lemons in what I assume is a quart sized jar which meant I'd need 1.5 cups of juice for my batch. Unfortunately, that amount wasn't even close. In the end, for my gallon jar, I needed 7 cups of juice to cover the lemons. Good thing I have a tree full of lemons. I also found the lemons kept bobbing up to the top like rubber duckies floating the the bathtub. A few small glass bowls used as weights solved that problem.
Paula Wolfert has this to say about using Meyer lemons. Note, I think she meant "thinner skinned" not "thicker" (edited; in reading again I realize she must mean the Meyer is thicker skinned than the doqq):
The creme de la creme of Moroccan lemons, the thin skinned doqq, is similar in aroma and flavor to our thicker-skinned American hybrid, the Meyer lemon. Meyer lemons turn extremely soft during preserving, and they make excellent flavoring for olives, salads or brined vegetables or garnish for tagines. California Eureka lemons also work quite well.
If you want to try making your own preserved lemons, I recommend sticking with the original recipe ratio. Perhaps I should have titled this post How (Not) To Make Preserved Lemons…
Now all I have to do is wait the 30 days until they are ready and then start cooking! Stay tuned…