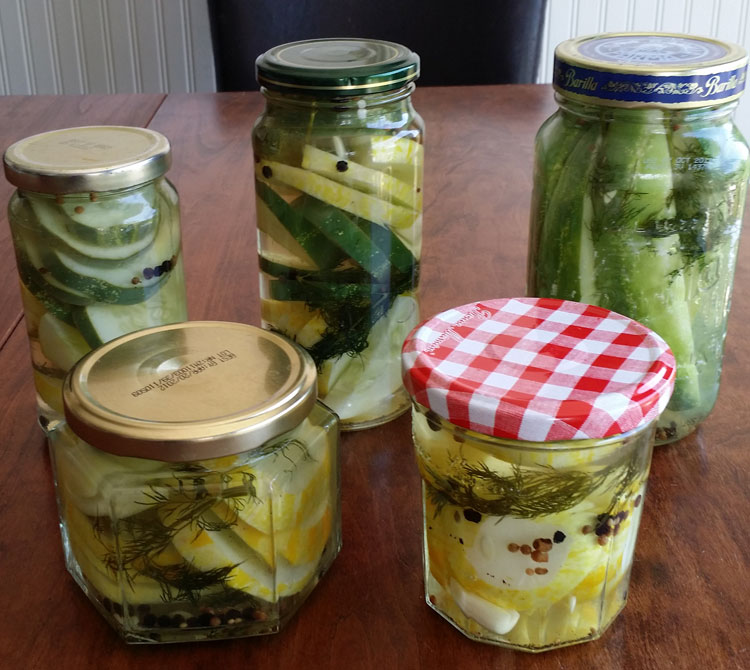 Last weekend I found myself with a couple of pounds of cucumbers from the garden, both the standard green kirby kind and those of the lemon cucumber variety. There was no way we were going to be able to eat all of them before they got soft and wrinkled, and I'd already given away several, so I decided to take my first foray into pickle making.
Not ready to get into canning, I chose to make "refrigerator pickles" which don't require water baths, canning jars, or my irrational fear healthy respect of botulism.
After I made the pickles, I put the hastily snapped photo above on the Formerchef Facebook Page and it got such a positive response, I thought I'd share what I did for those who were interested but also new to pickling. I'm certainly no expert here, just a pickle newbie, but the results were good enough that I'll be trying it again.
For reference, I used two recipes from thekitchn.com; this one for small batch garlic dill refrigerator pickles and this one for easy refrigerator pickles for any kind of vegetable.
Lessons learned:
Use a decent quality mild vinegar. I used a basic white vinegar because my white wine vinegar was too dark in color and I wanted the brine to be clear. Plus the Kitchn said plain white vinegar was fine. While the pickles are crisp and taste great, the vinegar was a bit strong for my personal taste. Next time I'll try something different, or maybe a mix of vinegars.
Make more brine than you think you'll need. I needed about a cup more than the reference recipes called for.
Experiment with using some of the different seasonings listed at the bottom of the recipe below. Next time I'll try some pink peppercorns for color and some dried dill seed for a more concentrated dill flavor.
Do you make your own refrigerator pickles? Have any tips to share?
Ingredients
2 lbs cucumbers
.25 oz fresh dill
6 cloves peeled garlic
2.5 cups white wine vinegar
2.5 cups water
2 tablespoons sugar
2.5 tablespoons kosher salt
1 teaspoon pickling spice**
1 teaspoon black peppercorns
Instructions
Wash the cucumbers and scrub off any prickly bits.
Slice off the ends and then cut into round slices or spears as desired. Pack the cut pieces of cucumber into clean* jars with lids.
Add two cloves of peeled garlic and some sprigs of fresh dish to each jar. Make sure you leave enough room in the jar to cover with the pickling brine and leave a little space below the lid (about 1/2").
In a non reactive pot, heat up the vinegar, water, sugar, salt, pickling spice, and peppercorns. Bring to a simmer and cook until the salt is fully dissolved.
Pour the hot pickling bring into the jars and cover the cucumbers with the liquid.
Put the lids on the jars, allow them to cool to room temperature, and then place them in the refrigerator.
Let the cucumbers marinate in the pickling liquid for at least 48 hours before eating. The pickles should keep in the refrigerator for at least a few weeks.
Notes
*I ran all my jars through the dishwasher again before using them even though they were "clean" in my kitchen cabinet. You can also dunk them in a pot of boiling water.
**optional seasonings beyond picking spice could be red pepper flakes, dried dill weed or dill seeds, mustard seeds, fennel seeds, different colored whole peppercorns.
http://www.formerchef.com/2014/06/23/my-first-refrigerator-pickles/