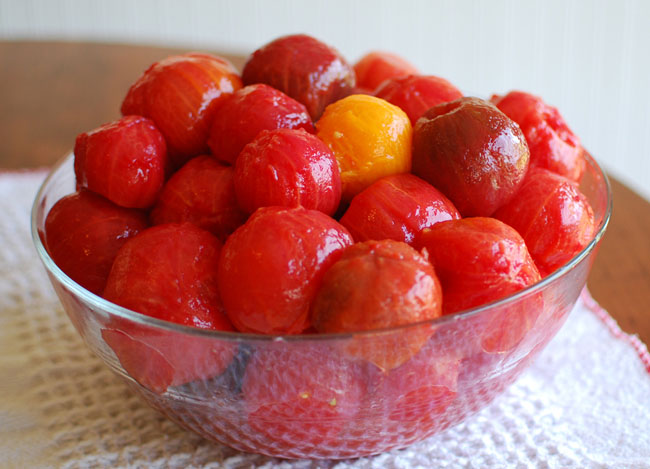 I love my garden, I really do. And I think the fresh tomatoes were quite possibly the best thing about it. But late in the season, due to some insects eating the leaves and the blazing summer sun, I got some really ugly tomatoes.
These were not the picture perfect ones seen in previous posts, but rather, they were sunburned and splotched, and a few, were slightly chewed on. But like all children, they are still beautiful on the inside, and perfectly edible (ummm, ok, not like children).
So, what to do with my unattractive fruit? I can't give them away, I'd be too embarrassed. The answer is to cut away and peel off all the ugliness. Then, they are pretty again and ready to be made into sauce or soup. If you just try and peel a raw tomato you will find yourself participating in an exercise of frustration. That's why I thought I'd share this very simple and quick way to do a large batch all at once.
*******
If you've found my blog via Google or Stumbleupon, welcome! I hope you find my posts helpful and take the time to check out what's new on Former Chef!
To receive free updates in your inbox when there's a new post click here to subscribe. 
*******
Preparing the Tomatoes:
First, using a sharp knife (I prefer a serrated one for tomatoes and tend to default to one of my steak knifes for this task), core out the stem and make an "X" on the bottom of the tomato. In some cases, I cut off the entire sunburned top of the tomato.
Blanch and Shock the Tomatoes:
Bring a large pot of water to a boil. Fill a large bowl with ice and cold water.
When the water is boiling, gently lower the 7-10 tomatoes into the pot of water. I use a large slotted spoon/spatula to do this so as to avoid splashing boiling water on myself. Trust me on this. I only do 7-10 at a time because the tomatoes only need 15-30 seconds in the water, so you want to be able to get them all out fast before they start to cook inside. The goal is to loosen the skin, not cook the tomato.

Once the skin on the tomato starts to wrinkle or pull apart (15-30 seconds), quickly remove them from the boiling water using tongs or a slotted spoon and put them in the ice water to stop them from cooking (this is called "shocking").
Leave them in the ice water for 15-30 seconds and then take them out and put them in another bowl. 
Repeat the process with the rest of the tomatoes, until they have all been blanched and shocked.
How to Peel Tomatoes:
Easy. Pick up the tomato. Once you've blanched it, the skin should just slip right off.
Seeding the Tomato
I like to do this over a strainer to catch the seeds and reserve the juice. Conversely, you could just do it over a bowl and strain it all later.
Pull or cut the tomato apart and push out the seeds. When finished, add the reserved juice back into the peeled and seeded tomatoes.
My goal is to get out as many seeds as possible with the realization it's impossible to get them all.
What to do with them now?
I've put some in the freezer for later, I could make more of the tomato soup I made a few posts back, but with this batch I'm probably going to make some Marinara Sauce .