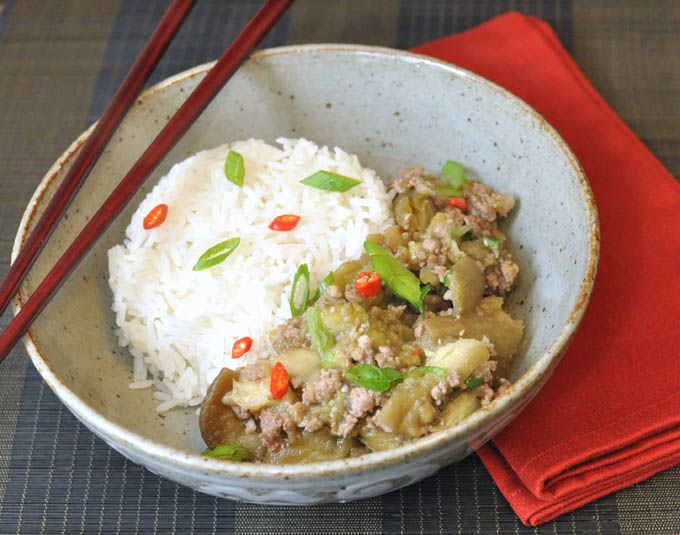 There are certain combinations of flavors which are considered classic and always paired together; chocolate and peanut butter, tomatoes and basil, or tequila and lime. For me, eggplant and pork have always been a favorite. It's not uncommon to see this pair across many different cuisines; it's common in Chinese stir-frys, Thai curries, Italian pork stuffed eggplant, and Latin American stews. One of the first recipes I put on this blog was a pasta with eggplant and pancetta.
We saw eggplant and pork frequently on menus in Cambodia and ordered it often. It can be found everywhere from street stalls to high-end Khmer restaurants. As many times as we ordered it, each verson was different; sometimes the pork was ground and other times it was sliced. Most of the time the eggplant was roasted, but occasionally it was cubed.
This dish is my take on the Cambodian Roasted Eggplant with Pork. I prefer roasting the eggplant to get that smokey flavor infused into the dish and I like the soft texture against the meatiness of the pork. I used ground pork from the whole pig we bought and I encourage you to try and find pasture raised pork if possible. I have been nothing but impressed with the flavor of this pork on every cut we've tried so far. This dish may not win any awards for "most beautiful"  (and it was quite difficult to photograph) but the taste is certainly an award winner.
Giveaway!
Update: Congratulations to Katharine, Comment #3, on winning the giveaway!
I brought back some goodies all the way from Cambodia to give away to one faithful reader. Leave a comment and let me know what your favorite flavor combinations are, or what you like to make with eggplant. I'll choose a winner at random from one of the comments and announce it on November 6th. Shipping to US addresses only.
The lucky winner will recieve:
Assorted Cambodian spices in little woven containers (Amok spice, Curry Spice and Cambodian White Pepper)
Chop sticks made out of palm wood with woven holders
Two packages of hand made palm sugar
500 Cambodian Riel (worth about 12 cents, but it has Angkor Wat on it!)
A 100% cotton, authentic hand woven, krama (this is a multipurose, typical scarf every Cambodian owns, both men and women. It comes from a small village where only 3 of this type per day are made on a hand looms).
Roasted Eggplant with Pork Recipe
1.5 lbs eggplant
2 tsp canola (or other neutral oil)
8 oz ground pork
2 tsp garlic,  minced
2-3 ea Thai red chilies, sliced
2 tsp fish sauce
2 tsp palm sugar, chopped (or brown sugar)
2 ea green onion, sliced
2 tsp soy sauce (gluten free if needed)
steamed rice for two
Many of these ingredients can be found in Asian grocery stores. Fish sauce is also called Nam Pla or Nuoc Nam and on its own can be very pungent but as an ingredient adds a depth of flavor that is noticeably missing without it. Palm sugar and the tiny red chilies are also available in Asian markets, but if you can't find them you can substitute brown sugar and a different spicy chile.
1. Heat oven to 400 degrees. Coat the eggplants in the oil and put on a baking sheet. Roast in the oven for about 30 minutes or until the outside is slightly charred, the skin is wrinkled and the inside is soft. The eggplant can also be roasted on an outdoor BBQ, whole for the same results.
Allow the eggplant to cool to the touch and peel off the skin. Roughly chop or break apart the roasted eggplant (it should be very soft) and set aside.
2. Heat a large wok or saute pan. Add the ground pork and cook for about 3 minutes over medium heat. Add the minced garlic and the sliced chilies and cook with the pork for another 2 minutes.
3.  Add the eggplant and combine gently with the pork. Add the palm sugar, fish sauce and soy sauce. Cook for two more minutes and at the end toss in most of the green onion, reserving some for garnishing the plate. Serve with steamed rice.
Serves 2 as a main course.
If you want to see more food and travel sites make sure you check out Wanderfood Wednesdays on Wanderlust and Lipstick.