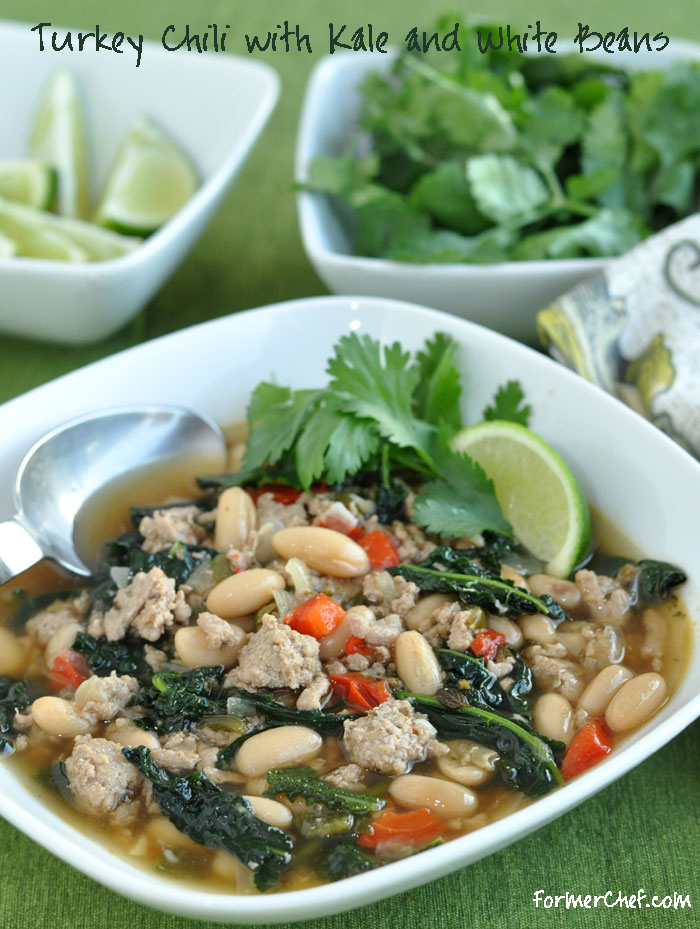 Is it chili?
Is it soup?
I really don't know, but whatever it is, it's so good that when I recently made an extra large batch for a dinner party hoping for leftovers for the next week's lunches, I was left with nothing but a single bowl.
I came across this recipe at the beginning of the year while scouring Pinterest for "healthy" meals to make after the post holiday binge and used it as inspiration for this dish. While my version is different, and soupier (is that even a word?) than the original, it's still incredibly healthy and delicious and it quickly became a family favorite.  I also chose to add kale to the recipe because frankly, most of us don't get enough of the good stuff. Plus, I like the texture and the slightly bitter flavor it adds. This chili/soup is fresh, clean and flavorful and I hope you enjoy it as much as I do.
In other news, I recently discovered a cool new web site called bloglovin (thanks to David Lebovitz's newsletter). Bloglovin is helpful because it allows you to select all your favorite blogs (ahem) and then you receive a single daily email with a summary of new posts from the blogs you follow. Or, you can choose view it on an app on your phone or tablet. I liked the idea so much I signed up and selected a bunch of my favorite blogs to follow. I've never been a fan of checking an RSS feed, so this works well for me.
You can even select FormerChef on bloglovin as one of the blogs to follow or see the blogs I'm personally following here. This is especially helpful now because I used to count on Facebook Pages to let me know when my favorite blogs had posted something new, but in case you aren't aware, Facebook has changed their algorithm so that under 10 percent of people who "Like" a Page actually see the Page's posts in their news feed. It's strictly pay to play now on Facebook, so if you want to make sure you see new posts from FormerChef, I recommend you either subscribe for direct email delivery of new posts (see envelope icon top right sidebar), or sign up for a service like Bloglovin (it's free- I don't get anything for recommending it either, I just like it). It looks like you can follow people on Bloglovin too, so let me know if you are on there!
Turkey Chili with Kale and White Beans
Ingredients
2 Tablespoons olive oil
1 each yellow onion, diced
1 red bell pepper, diced
1 poblano pepper, diced
1 jalepeno, minced
3 cloves garlic, minced
1.5 pounds ground turkey
2 cans cannellini beans, drained and rinsed
2 teaspoons ground cumin
2 tablespoons dried oregano
6-8 cups turkey or chicken stock
8 oz cleaned lacinato (Tuscan) kale, cleaned and cut into 2 inch pieces
kosher salt and freshly ground black pepper
2 limes
1 bunch cilantro
Instructions
In a large soup pot, add the oil to the pot over a meduim heat and then add the diced onion. Allow the onion to cook for about 5 minutes until it begins to soften, then add the diced red bell pepper, diced poblano, minced jalepeno, and garlic. Saute for another 3-4 minutes.
Add the ground turkey to the onion and peppers mix and cook until the turkey is no longer pink, breaking it apart and combining it with the vegetables.
When the turkey is cooked, mix in the cumin and dried oregano and then add the stock. Mix in the rinsed cannellini beans.
Allow the soup to cook for at least 30 minutes on a low simmer.
About 10 minutes before serving, add the cleaned kale to the soup and let it wilt and cook briefly.
Taste and season with salt and pepper.
Serve with a garnish of fresh cilantro sprigs and a squeeze of fresh lime.
http://www.formerchef.com/2014/04/05/turkey-chili-with-kale-and-white-beans/