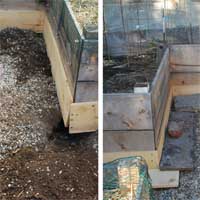 They are trying to dig to China, my garden monsters.
Every night they dig, dig, dig, tunneling under the garden beds in search of literal pay-dirt. My garden pathways, once lined with pristine pea gravel, are now a mix of dirt and gravel, messy and ripe for growing weeds. Our efforts to keep them out by shoring up the bottoms of the beds with more wood have been met with a redoubled digging effort.
But one morning last week may have been the last straw.
The day before, frustrated and angry that I had to keep pushing the dirt back into place, I put large pieces of concrete and scrap wood topped with brick, on the ground around their favorite digging spots. An inelegant solution to be sure, but I wanted to see if it would stop them.
Yes and no.
When I stepped out onto my back patio the …